These little rolls were made a little on the spur for the moment; I had meant to make some cupcakes for work as Louise had been cruelly posting pictures of hers on Facebook and taking them all into her work where her colleagues devoured them, even I didn't get a look in. However I was missing most of the required ingredients and instead took a fancy to making some rosemary flavoured bread, I'm not really sure why, but the idea was just there and I have plenty of fresh rosemary in the garden.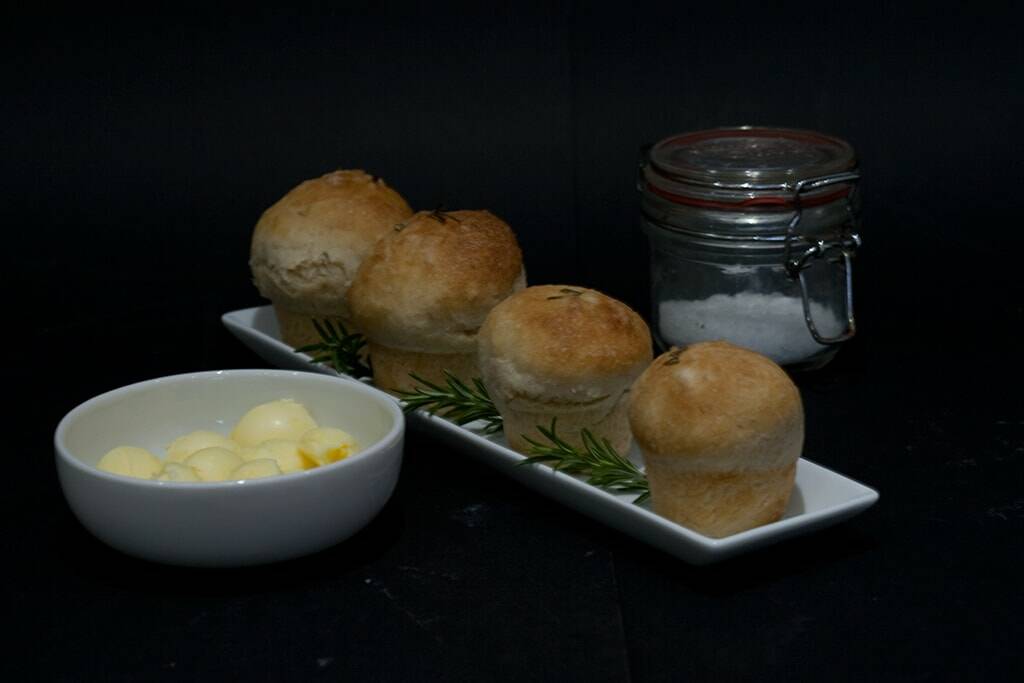 I knew that just about most baked goods would go down well at work and that my perfect little rolls seemed to have gone down well before. they are nothing different from a normal loaf of bread except that they are moulded and baked in mini muffin tins to make small cute little rolls that come out more or less uniformly. They also have the added advantage of being almost bite size and easy to share, no bread knife required.
Anyway back to bread and rosemary, which straight from the garden with nothing more than a quick wash packs a really powerful punch so only a little is needed. The fragrances that fill the kitchen whilst preparing and baking just make you wish that baking bread was quicker, as they say good thinks come to those that wait. I've tried various flavoured breads before with varying degrees of success, the sun dried tomato ones I've done a few times although they taste very good I find that so far they've always been a little denser than I would like them to be. As the rosemary doesn't interfere with the baking process at all these rolls are nice and light with a fluffy crumb.
Yield: 20 30
Rosemary and smoked sea salt rolls
Total Time
2 hours
30 minutes
Ingredients
5 g smoked sea salt
10 g fast acting yeast
750 g strong bread flour
40 ml rapeseed oil
450 ml water
1 tsp fresh rosemary
Rapeseed oil, smoked sea salt and finely chopped rosemary to top off
Instructions
Combine the salt, oil, flour, yeast and water (ensuring that the salt does not come into direct contact witht the yeast)
Bring together and kneed, with by hand or in a mixer, I like to use our Kitchenaid with a dough hook
Place dough into oiled bowl and leave to rise for two hours
Knock back the dough, kneed and then shape either into individual rolls or one loaf
Leave to rise for a further hour
Brush the top of each roll with a llittle oil then sprinkle a little chopped rosemary and smoked sea salt
Bake for 10-12 minutes at 240 degrees
Turn out on to cooling rack and allow to cool completely before eating
Nutrition Information:
Yield:
24
Serving Size:
1
Amount Per Serving:
Calories:

133
Total Fat:

3g
Saturated Fat:

0g
Trans Fat:

0g
Unsaturated Fat:

2g
Cholesterol:

0mg
Sodium:

107mg
Carbohydrates:

23g
Fiber:

1g
Sugar:

0g
Protein:

4g